Services
Pristine Oriental Rug Cleaning Specialists have many rug cleaning services to offer residents and businesses in Franklin County, Massachusetts.
Rug Washing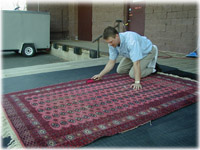 A good in-plant operation will walk you through and show you step by step what they do, answer your questions with direct answers and explain anything that you are not clear about.
That's the way we operate and we would be happy to show you why we believe our method of rug cleaning is the most thorough system available... ANYWHERE. We treat your rug like it was our own, and we encourage you to come and see our facilities for yourself.
See our Rug Cleaning Process, here >>
Wall to Wall and Upholstery Cleaning
Pristine also cleans Wall to Wall carpet with a different process. Pristine has a wide variety of carpet cleaning tools because not all carpet is the same and shouldn't be treated as such.
We offer the RX-20, the DriMaster(rotary extraction machine) and a variety of carpet wand sizes. These tools are used with The Butler System, the Number 1 van-powered carpet cleaning system in the cleaning and restoration industry.

Using a combination of tools, the hot water extraction method from The Butler System and our educated certified rug technicians, we offer a cleaning our customers can trust and rely on time after time.
Pristine's technicians have been trained in accordace with IICRC guidelines.
Remember: If It Has To Be Clean It Has To Be Pristine
Odor Removal
Pristine Oriental's technologies and uniquely skilled staff remove rug odor directly at its source. Odors are never masked with heavy perfumes.
Perfumes are sure to fail at the first sign of humid weather. Our odor removal is a process that gets rid of the odor, doesn't cover it up.
Although longer soaking and additional soaping and flushing may be required, we are capable of removing the most stubborn of odors. In fact, it is not a stretch to say, "In cases of heavy odor, Pristine Orientals is your only hope."
Moth Proofing
The first step in removing moths is a Pristine wash, but mothproofing is the only way to protect rugs from future infestation.
Our method of mothproofing does not involve killing moths with fogs, chemicals or insecticides.
Following our wash, we simply spray the rugs (front and back) with a dissolved powder that sours the taste of the wool for moth larvae. We do not kill moths with this spray!!! The wool absorbs the liquid and then becomes unappetizing for moth larvae. This breaks the moth life cycle at the larvae stage.
The manufacturer of the product we use recommends treatment every three years.
Repairs
Pristine repairs the most common fringe repair and basic rug repairs. Pristine can provide the highest quality care for your rugs. Braided rugs can be repaired as well. Call our office today to speak with someone about your repair needs.
Fabric Protector
To keep your rugs looking Pristine, consider a fabric protector.
Following our wash, we can apply a fabric protector to the face of your rug. This protector coats the wool and repels soil-, oil- and water-based traffic and spills. This means cleanups will be easier because the wool will absorb less, giving you more time to react. Vacuuming will also be more effective because the protected wool will repel soil.
Padding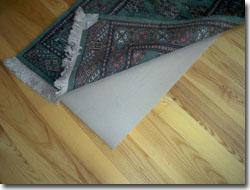 Pristine stocks two types of pads (others can be ordered upon request); Ultimat and Rubber Anchor by Jade Industries:
Ultimat Padding is a heavy duty 1/4-inch thick padding that not only offers your rug the protection it deserves on your wood, tile or carpeted floors but it also gives you comfort.
Rubber Anchor offers a different feature for your rug and is better suited for your smaller, thinner rugs that tend to move around and bunch up on you. It's purpose is to keep your rug stationary on a hard surface such as hardwood or tile.
Pickup and Delivery, Wrapping and Storage
Pickup and delivery is just one of the many convenient services that we can offer at Pristine Orientals.
We also offer to hand wrap your rug in Tyvek house wrap. This provides a strong protective layer over your rug for use during storage, allows your rug to breathe, and keeps moisture out.
We offer climate controlled rug storage right here at our shop.